ADU-RES Seminar in Amman, Jordan (19 of September 2006)

The seminar took place on the 19th of September in the premises of Royal Scientific Society in Amman, as a parallel session in the "Global Conference on Renewable Energy Approaches for Desert Regions". For more information on the conference, please click here.
Representatives from most of the ADU-RES partner organisations participated in the seminar. In this event, the main results of the ADU-RES project since the previous meeting in Hammamet were presented, as well as the actions until and after the completion of the project were discussed and planned. Additionally, external speakers gave presentations on the topic of renewable energy based desalination. Finally, round-table discussions were held on policy-making issues.
In the table below the programme of the seminar is presented. The proceedings of the seminar with abstracts from all presentations are available in English. You can dowload the documents here: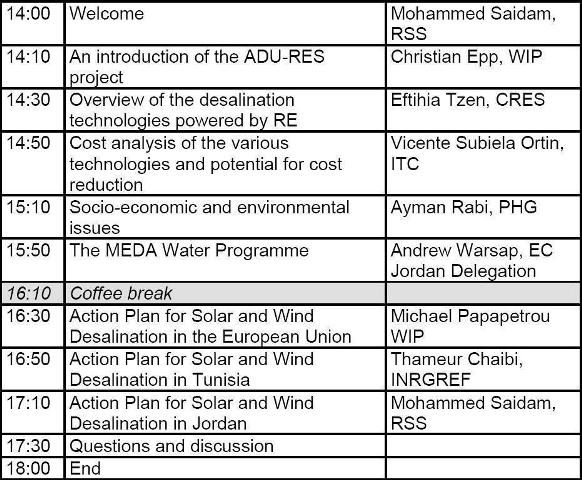 For more information about the event please contact:
Mohammad Saidam, PhD
Senior Researcher and Director
Environment Monitoring & Research Central Unit
Royal Scientific Society Jordan
Fax No: +962-6-534 4806
m.saidam@emarcu.gov.jo
Christian Epp : + 49-89-72012 712
christian.epp@wip-munich.de